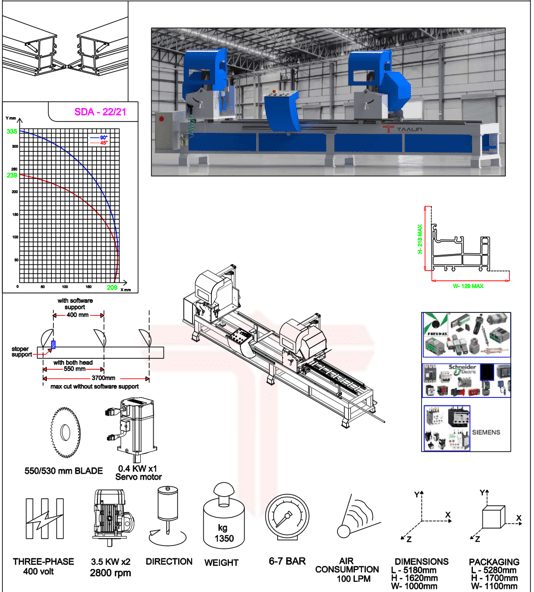 Double Head Cutting in India
Taalin Machinery & Robotics Pvt. Ltd. is a prominent Double Head Cutting Manufacturer in India. Our offered cutting machine comprises of 21/22 inch dia blade with 2 heads for cutting aluminium and uPVC profiles. Max saw out in width 209mm and height up to 239mm in 45 and 209mm width and 335 mm height in 90.
Additionally, the offered double head cutting is designed primarily for double side, single side and straight or angular cutting of PVC profiles for windows & door Production. These machines are suitable to be employed on aluminium, steel, galvanized sheet, iron, and other materials and the beams are accessible with a light structural design. Our valuable customers can also obtain various types of UPVC Cutting Machines at custom-made and reasonable prices.
Technicial Specifications of Double Head Cutting
Model
SDM/SDA 22/21
Phase
Three-Phase 400 Volt
Weight
1350 Kg
Air Consumption
100 LPM
Dimensions of Double Head Cutting
Length
L-5180 mm
Height
H- 1620 mm
Width
W-1000 mm
Packaging of Double Head Cutting
Length
L-5280 mm
Height
H-1700 mm
Width
W-1100 mm