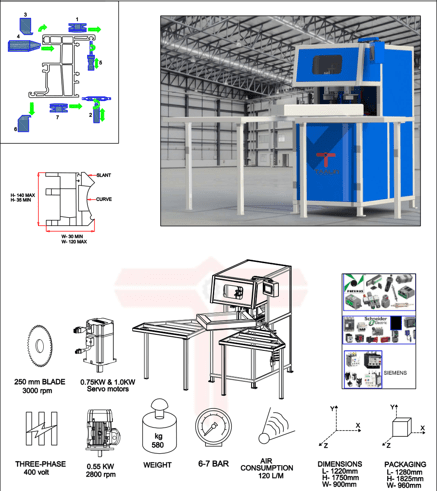 Manual Corner Cleaning Machine in India
Taalin Machinery & Robotics Pvt. Ltd. is a prominent Manual Corner Cleaning Machine Manufacturer in India. Our offered cutting machine comprises of:-
Corner cleaning stability with 2 axes high-speed servo control system.
High-quality cleaning outcomes on surfaces by way of employing an automatic highness controller.
Industrial PC-Based Control System.
Remote desktop connection by way of Wifi or Network connection.
File can be transfered easily using USB or network.
Easy programming support via DXF, DWG of PDF file extensions.
High-performance industrial PC working between 0C-55C with Operating system Windows XP Embedded and fanless design.
Our offered Manual Corner Cleaning Machine is used primarily for creating Windows & Doors. Our valuable customers can also obtain various types of UPVC Machines at custom-made and reasonable prices.
Technicial Specifications of Manual Corner Cleaning Machine
Model
GCP 2T
Phase
-
Weight
68 Kg
Air Consumption
60 LPM
Dimensions of Manual Corner Cleaning Machine
Length
L-710 mm
Height
H-1270 mm
Width
W-620 mm
Packaging of Manual Corner Cleaning Machine/td>
Length
L-710 mm
Height
H-1270 mm
Width
W-620 mm